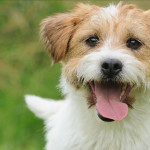 Grain-Free Food – Did you know? Nutritionists have found that grain-free food prolongs the life of your pet. Grains cause many allergies and skin problems in dogs and cats. Eliminating grains from their diet can often lessen (if not solve) your pet's allergies!
Why Feed Raw? Feeding your dog or cat a raw food diet mimics what they would eat in the wild. Because a raw diet is not cooked, the food contains all of the essential nutrients needed for your pet's optimal health–nothing is lost due to the extreme heat often associated with making dry kibble. A raw diet also consists of the natural enzymes needed to promote digestive health in your pet.
Animal By-Products– When viewing ingredients in your pet's food, it is important to avoid anything that contains animal by-products. Because many pet foods list "animal by-products" under the ingredient list, manufacturers are able to include various unsatisfactory ingredients that consumers are unaware of. Although not exclusive, these may include: Diseased, dead, dying, and disabled animals, as well as leftover restaurant grease, out-of-date supermarket meat, and more.
Visit Dr. Karen Becker's website for more great information. http://www.drkarenbecker.com/